Gallery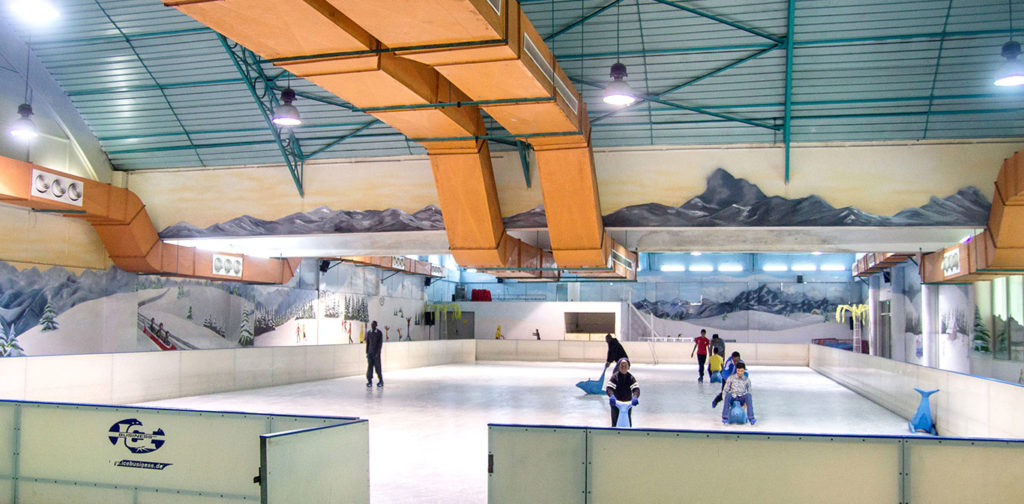 Description
The Solar Ice Rink at Panari is the only one of its kind in East and Central Africa. It measures 32 × 12 meters with an ice skating surface area of 15,000 square feet. It is totally enclosed with ice temperature at -25oC and the air temperature inside the hall is 12oC. The rink can accommodate 200 skaters at any time and is open seven days a week from 11.00 am until 10.00pm.
Skating rates have been kept very low i.e. Kshs.800 for children up to 14 years and Kshs.1000 for all ages groups 15 years and older per 60 minutes inclusive of the skating boots. There are no commissions paid to agents. Tickets / receipts are issued only for single sessions and only 15 mins prior to skating sessions. Age verifications maybe required to authenticate children's age. There are instructors on site to assist novices on basics only. Children learn the basic skills of the ice-skating quite fast.
It is advisable to reverse timings for groups in advance. The ice rink can only be blocked or closed out for private parties or functions with prior confirmation.
Ice Skating / Ice Hockey Lessons
At the Solar Ice Rink, our goal is to provide a fun and safe environment for skaters of all ages and abilities to learn and grow. Lessons are presented in concise levels with each one focusing on several skills that will be built upon in levels. After demonstrating mastery of the skills in one level, a student may proceed to the next.
Ice Skating Lessons
For kids and adults with little or no skating experience, come and learn to skate! Classes are great fun, great exercise, and a great way to introduce skating into your life! Skaters learn basic coordination and maneuverability. We have lessons that are tailor made to the ability of participants.
Ice skating lessons @ a reduced rate of Kshs.6, 000/- per person for 6 lessons.
Direction
Panari Centre Limited, Mombasa Rd, P.O.Box 4372 - 00506, Nairobi, Kenya